CONFESSIONS OF A NEWBIE : "ROTA SPARK" EDITION.
University life is the scope of life that every student dream to witness in the long run. It's a youthful episode of life - a solidly jarring storyline, characters and plots, little-known talents, the joys of luck and maturing from flops, etc.  Accustoming to new surroundings can be a bit tricky and nerve-wracking over to one's exposé to society - where teens are taken up as adults who'll be molded to the world. And I am no different.
One thing that I knew for sure after I got chosen to University of Moratuwa, is that I have to sign up for Rotaract Club. So when newbies were being enrolled, I took my chance too. Based on what I've noted and heard, especially the Rotaract Mora stood out to me from all the other clubs out there. First impressions are in fact everything, and Rotaract Mora definitely scored on that one. I mean "Rotaract Mora!" How cool is that name! Odds on the Rotaractors are cool too, and yes, they do!
Simply put, Rotaract Mora is a family. Let me tell you, I'm saying so because I actually came across the love, the companionship, the warmth, the teamwork, the bliss among complete chaos - just like any family. It's 100% safe to say that none of us would have met such a batch of supportive seniors who wouldn't hesitate to trust us, look after us, save us whenever we messed up, treat us like their own friends from day one and crack jokes here and there to make us comfortable.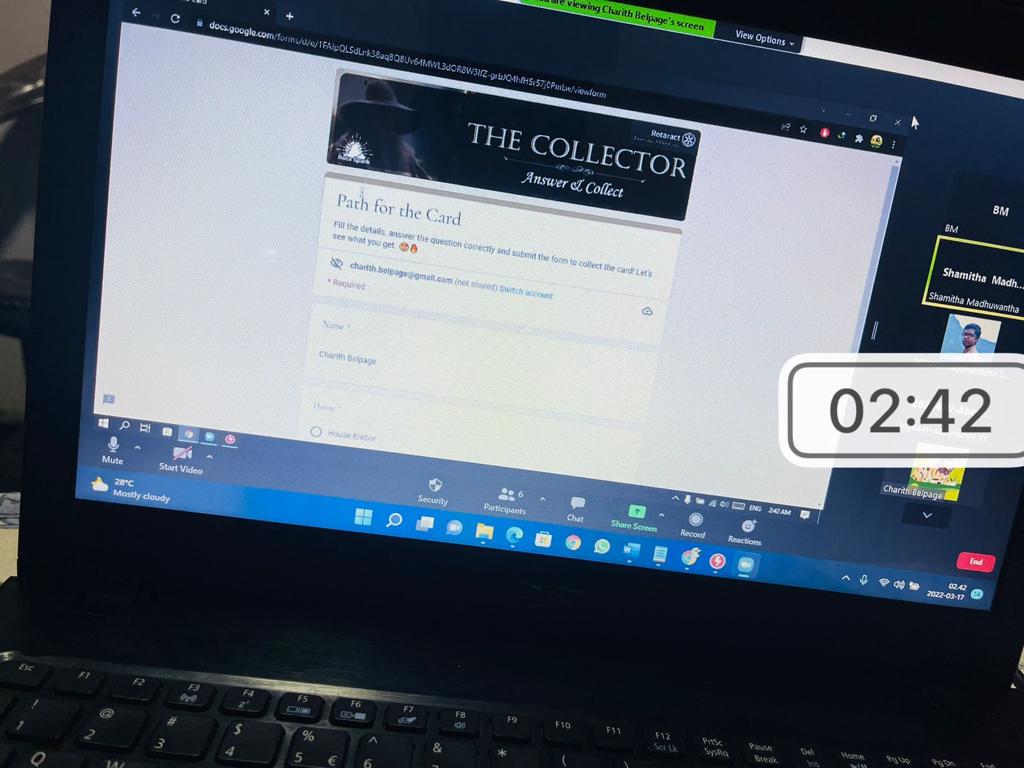 Summing up the first three months with Rotaract Mora, nothing could be used to describe it except the words "a one jumbo rollercoaster ride !". With the orientation project "Rota Spark" on recruiting newbies, houses were put together based on the kingdoms of the Lord of The Rings trilogy, each competing to finally win the house championship. Far and wide of this course of action, we built friendships for a lifetime, worked day and night on tasks together, giving our best to bring our respective houses to the top of the leaderboards, nonstop Zoom meetings and WhatsApp calls even among the power failures islandwide! Never in my life, I've seen so many extremely talented young graphic designers and video editors, enchanting writers, strong leaders, and spirited team players and it's safe to say that the future of Rotaract Mora is indeed in safe hands. Despite the entire project being carried on virtually, I believe that the close bonds we built with everyone were forever and stronger than any physical connection. Us supporting teammates to win their achievements, us being cheered on, and learning to accept victory and defeat were a few of the lifetime morals we learnt.
My heartiest thankfulness to the organizers of this tremendous campaign, because Rota Spark didn't only bring out the best in us but it actually brought all of us together despite being belonging to different faculties and departments. It was a challenging life experience, working with seniors on ongoing projects and being mentored. Something I personally never expected was to build this closeness with our upperclassmen, but the way how the Rotaract family, and the Rota Spark project treated us, changed my whole picture.
I can definitely vouch that these three months of my university life made a huge influence on me, and taught me many reasons why this huge and lovely family is the best place where you can be. All of my love, to you Rotaract Mora, and also Rota Spark!