Rainbow of Hope - "Paint Their Dreams"
Is there anything purer in this world than the hopes and dreams of a child? Is there anything more fulfilling than knowing that you have been a part of making their dreams come true? The theme of "Rainbow of Hope- Sip Sewana" was just that; adding a splash of colour to the lives of deserving little children.
Sip Sewana ,a sub-project under the mammoth initiative of Grama Prabodhaya , had been initiated in 2019 December with the motive of constructing a brand-new school building for the newly initiated Advanced Level stream in Dunupothagama Vidyalaya. Conspicuously lacking the room to accommodate the new students, the school had been forced to shelter these promising schoolchildren under a temporary shack, hastily constructed from wood and corrugated roofing sheets. Our Rotaractors immediately responded with a comprehensive plan to construct a brand-new spacious school building to help nurture these minds. Although deadly pandemics had thwarted the project along the way, the building had been completed and all that was left was to paint it before handing it over to the eagerly expectant and enthusiastic schoolchildren.
We left Colombo a little past midnight so that we could reach Dunupothagama Vidyalaya as early as possible. The inside of the bus resembled a disco with flashing lights and blaring music, but we all decided to get some sleep because we knew it would be a long day ahead. We arrived at the school, greeted by bright welcoming smiles and we decided to take a little rest and a small walk around the school before we started our work.
We put our old clothes on and started coating the outer walls with wall-filler. It was harder than we expected and the relentless sunshine didn't help, but we had fun all the same. My over-enthusiasm may have led to a considerable amount of the wall filler ending up in my hair, but after some good-hearted joking I was assured that a good long bathe in the village tank would solve it. We shared around the work and managed to finish applying the filler before lunch.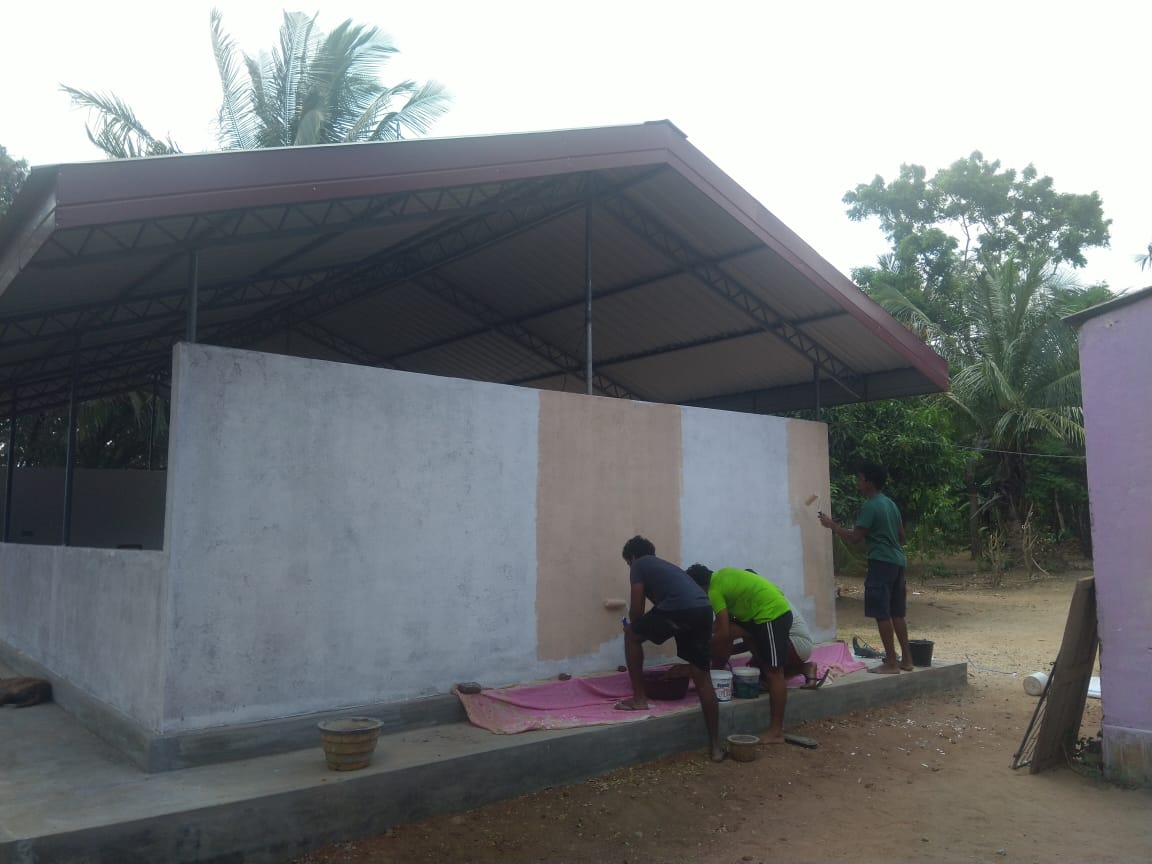 Then it was time for an unnecessarily animated debate about whether to paint the building yellow or pink which also became the butt of many jokes. After some time, we ended up settling on a marshmallow colour to appease both sides and after the local masons cheerfully approved our choice, we bought the paint and got cracking. Good company helps pass time and we barely noticed the hard work or our aching backs as we finished painting the outer walls by the evening. I would be failing in my duty, if I do not give a honourable mention to the delicious "lavariya" and plain tea we were given which was as good a pick-me-up as any. Just before the sun set, we went to the village lake for a long-awaited bathe and to attempt to wash off the paint that had ended up in our hair. Rtr. Chandeepa, the tallest, was sent in front to make sure the water wasn't too deep and we followed faithfully. After we got back to the school, we had a well-deserved dinner and set up paduru and mosquito nets. Despite some valiant efforts to play Omi, all of us were tired after a long day of hard work and fell asleep pretty quickly.
After waking up the next morning we started the rest of the work early because we had to paint the inner walls of the school building. The masons had worked quickly and well to finish applying wall putty to the inner walls and all we had to do was follow it up with a coat of filler and 2 coats of white paint. Armed with brushes and paint we enthusiastically threw ourselves at the job, occasionally taking a break to joke around or vent our frustrations about the impending apocalyptic exams. The work wasn't easy and we couldn't afford to rest for too long, but everyone worked hard and managed to finish everything in the evening.
We stepped back and admired our handiwork as the freshly painted school building stood glowing resplendently in the mellow evening sunshine. The deserving students of Dunupothagama Vidyalaya would no longer have to shelter under a precarious hut and we couldn't stop smiling as we proudly witnessed the result of many months of hard work. There was nothing more satisfying than imagining the faces of the excited schoolchildren the next day when they could finally move into a proper beautiful new classroom.
We managed to catch a bus back to Colombo before it got too late, despite Rtr. Pasindu's tendency to break or drop everything around him at the last minute (slippers, bag, watch; we were a little concerned that the bus might also break down at one point). We were all tired after a busy and fun weekend but very satisfied with what we had been able to do to help those who deserve a helping hand.
This is a small step in our club's signature community service project ;Grama Prabodhaya, which has been launched this year more ambitious than ever, perpetually committed to uplift and empower entire rural communities. A diverse range of commendable projects, tailor-made to address the issues faced by the people of Dunupothagama, a village in the Anuradhapura district have been planned and will be carried out this year. Great things are afoot and Rotaract Mora will undoubtedly come together to prove that it can truly make a difference in this world once again.
Rtr. Dinidu Edirisinghe