The event master, Rotaract Mora was yet again successful in planning and executing the most awaited "Padura" of the season, Binara Padura. It was crowded and overwhelmed with cheer and dance throughout the night. Held on the 26th of September, at the New Architecture Building, this event was as colourful as you could imagine with decor that was dashing and aesthetically pleasing and most of all, the organizers, performers and the lovely audience that made the whole event a night to remember. Not to forget, Binara Padura was brilliantly showcased with a twist of modernity in the "Sinhala classical" platform.
This event was organized under the Club Service avenue, and chaired by the newbies Pipuni, Nimodh, Charith, Zaky and Manusha. The organizational quality and success of the event indeed reflects on the skills of these youngsters; being able to handle and coordinate till the end of the event. This is what Rotaract Mora offers the challengers and strong personalities that are ready to take up the heat and gain more experience.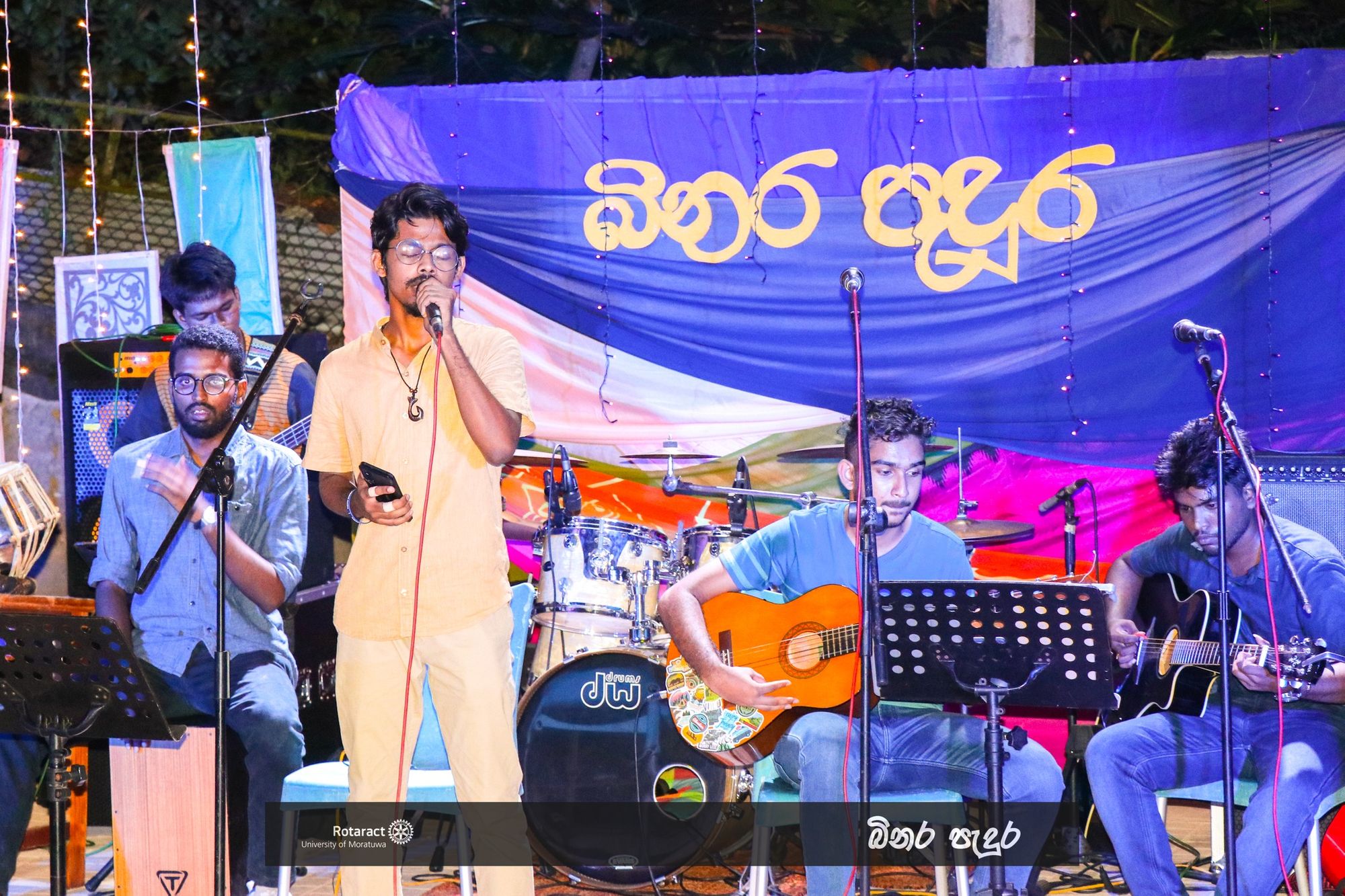 As any usual event, the start was quite reserved with performers showcasing their skills and talents taking the crowd aback with awe and excitement. Dance items, songs, instrumentals and what-not lit up the night, and the crowd started pouring in. Not more than an hour in, the whole premises was filled with cheers coming all the way from the back and the top. The event was lit by 40 delightful performances that kept the crowd entertained throughout. The soft and slow commencement was taken up by songs like Sihina Dewduwe, Husmak Pawa, Kirikodu Hithata and more modern classics. More excitement was added with the guitar and flute instrumentals and a few dancing items that hyped up the audience. The end was taken up by the hit "Weralu Mal" and as any usual Padura, it was driven towards a Baila session at the latter part to captivate the crowd and create a memorable finale.
Undoubtedly, anyone would agree that it was a much needed escape from all the academic pressures and stress.  It was indeed a great platform to bring out one's hidden talents to entertain the Mora fam. Did you miss Binara Padura? Fear not, there's more coming up from Rotaract Mora!