Hell Gone Empty, People Gone Creepy - Haunted Island 2016
The spookiest event of the year "The Haunted Island" marking a different level of the Halloween history of Rotaract Mora was held on the 28th of October 2016 at the Club Pent House Island Resort. This annual event which had been open only to the Rotaractors of Rotaract Mora was open for the fellow Rotaract clubs this year adding more colour to the event.
The Club Penthouse resort which was located in an island in the middle of the Bolgoda Lake increased the uniqueness of the party in an uncanny way. The scary boat ride which was directed by a ghostly grim reaper was the initial step to reach the destination. The eye scraping decorations like the lighted entrance arch, tombstones all around the island with deadly hands coming out of it, scary pumpkins with candles inside of it, each table decorated with a gloomy light and the ear itching haunted music playing created the best Halloween effect in everyone's mind.
The enjoyment began with the initializing of games. The treasure hunt was the main challenge given to the participants who had been divided into groups. Deadly characters from movies were walking everywhere on the island and the hints had to be acquired from them to make it to the treasure. The joker, who instead of stealing the laugh gifted the laugh to us, the dreadful Dracula, the bandaged mummy, the pretty bad witch stole the attention of everyone. Not only the organizers, but the participants also got to chance of depicting their favorite horror characters with the help of the face painters of the event.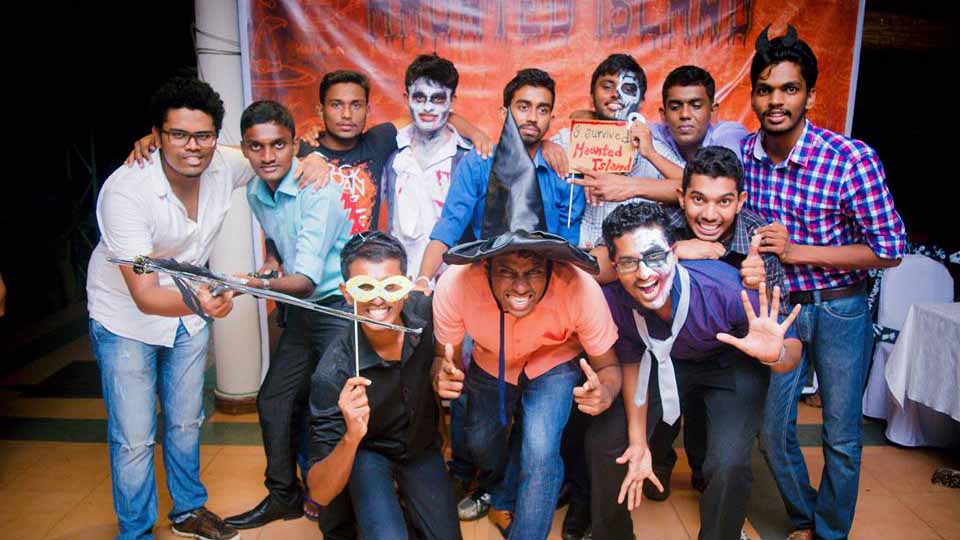 Photographs courtesy of LetMeKnow.lk
The tin can toss, balloon popping, dart games were popular among the many more games organized for the excitement. The delicious dinner buffet helped to calm the hungry zombified buddies of ours. Saving the best for the last, the real party started with the opening of the dance floor and everyone twisted for the rocking DJ music.
Do you think the party stopped afterwards? Not a chance, the pool there was expecting everyone to jump into it and by the midnight the pool party started. The night at the haunted island ended after filling everyone full of scariest fun and excitement.